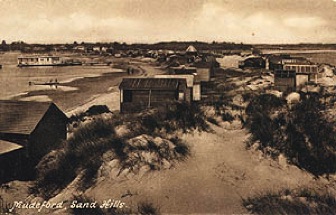 This pre- war postcard shows that Mudeford Sandbank could still (just) be called by its old name of Sand Hills. The triangular roof in the middle-distance is a short-lived camera obscura dating the picture to 1934 (or a little later) according to Highcliffe historian Ian Stevenson.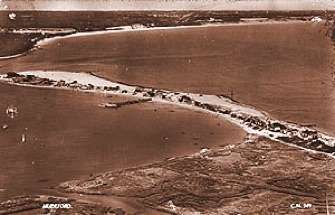 The reverse of this postcard posted in 1957 says "this photo is out of date, there are three times as many huts now." Also it reveals "Timmy is enjoying himself but is cutting his back teeth again."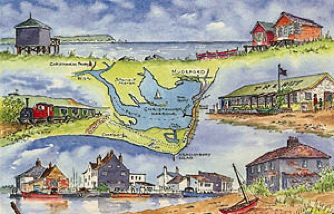 This postcard captures the predominant mood of the sandbank in the summer and was executed in the 1990's. Mr Brian Randall, FRICS, a Hampshire-based Chartered Building Surveyor can undertake artwork, house portraits and landscapes in line and wash and watercolour.